AFC
Automated fare collection (AFC) system means automatic payment way for public transportation channel such as bus or metro using RF(Radio frequency) contactless Tmoney card - an automated version of manual fare collection by cash. AFC system is generally classified into four levels as follows.
General Structure
Level 4(Center)

Basic Information Management, Fare Management, Reload Management, Equipment Management, Administration, Transaction Data Process, Infrastructure

Level4 is a data management system. It receives the reload, fare information from the transportation channel(bus/metro) and settles the received data. It also involves in not only managing devices, transaction history but also communicating with each layer to administer the necessary data.

Level 3(Center)

Data Collection System

A data collection system is situated in Level3. The transaction data is gathered by bus depots / metro stations and uploaded to the center system. The center system also transmit the data to each bus depot and metro stations.

Level 2(Device)

Card Reader, Top-up Device

Level2 is devices relating to the transportation channel(Bus/metro etc.) and the top-up. Bus drivers and passengers could utilize the devices for fare collection, top-up of the card balance, general bus operation and more. Card readers transmit/receive transaction/operation data by communicating with card layer and data collection system. A balance recharger enables the users to reload the card balance and make a payment. And both manual/automatic types are available. They transmit/receive transaction/operation data by communicating directly with each card and center system.

Level 1(Card Media)

Card, Tmoney Card Management System

Level 1 consists of two parts. A card which is a payment method and SCMS(Tmoney Card Management System) which manages whole life cycle of the Tmoney card. The card communicates with the card reader and stores the processed transaction data. SCMS supervises the entire operation of the card from generation to disposal.
Bus validator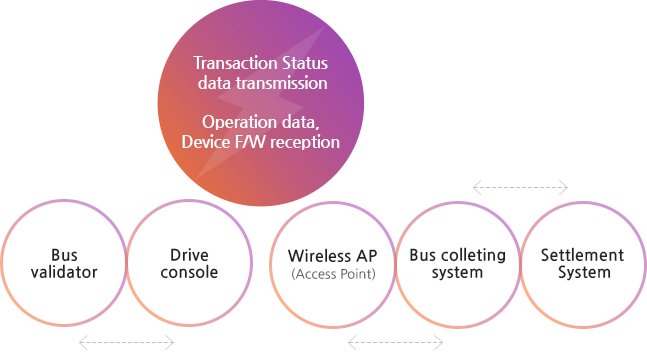 Metro Device


Expectancy Effects
Well designed and effectively implemented AFC sites that are being operated around the globe have proven to be beneficial to every stakeholder, be it the city government, citizens or the transport operator.
Smarter Government(Reflection on Transportation Policy)
Optimization of bus routes
Coordination of allocation interval
Supporting Scientific Public Transportation Policy-making
Increase of citizen's convenience
Providing high-tech Tmoney card infra to passengers
Eliminating use of cash/note and long queue
Faster and convenient method of payment
Profit Increase for transport operators
Cost Reduction and revenue increase
Transparent revenue report
Scientific route management and optimal vehicle allocation
Reducing safety risks for drivers and providing stable operation
Bus Driver Console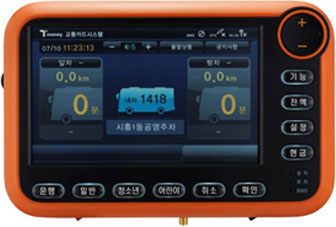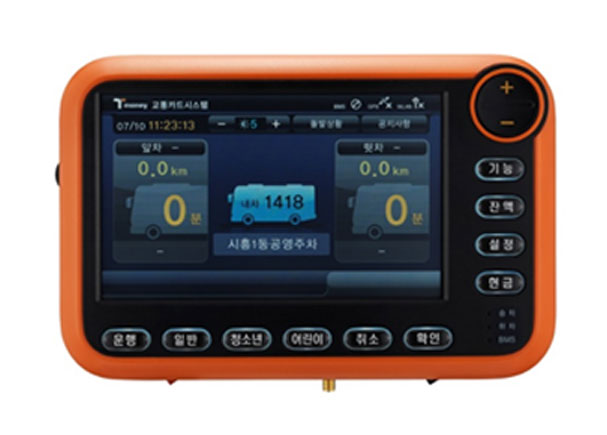 Key Features
State-of-the-art Driver Console, upgraded version"Get the most intelligent driver console in your bus"
Intensive system for BMS/BIS/ITS
Internal GPS / Wifi Module
Multi-fare / Multi-boarding available
Wireless connected to passenger's validator
MCU function embedded => Efficiency
Easy to handle by touch-screen
AFC/BMS function integrated
ITEM, Description Bus Driver Console table

ITEM

Description

System

AFC Part
BMS Part

Linux OS
Coretex-A8 S5PV210 1GHz
SDRAM 512MB
NAND 1GB

Linux OS
Coretex-A8 S5PV210 1GHz
SDRAM 512MB
NAND 1GB
Micro SD 4GB

User Interface

7.0"WVGA TFT LCD 800 X 480
Touch screen
12 Push Buttons
Indicated LED (RED)
Speaker (1W X 2ea)

Connectivity

(I/O)

8 RS-232C Ports
1 USB HOST 2.0 Port
1 Ethernet RJ-45 Port
2 Ethernet Circular Ports
7 GPIO Ports
GPS- Ublox6
WLAN Dual Band - 802.11a/b/g/n

7 RS-232C Ports
1 USB HOST 2.0 Port
1 Ethernet RJ-45 Port
7 GPIO Ports
1 Communication Modem I/O: GSM / WCDMA / GPRS
A/V IN/OUT Port
(RCA Jack Type)
Audio : Stereo
Video : Composite

Dimension

226x148.5x52.8mm

Power

24V, 2A
Bus Validator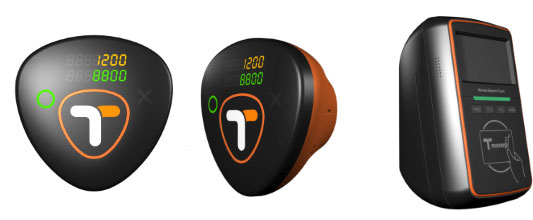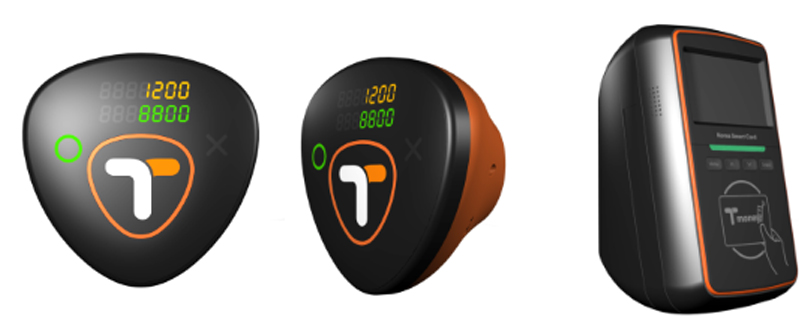 Key Features
Wireless connected with Driver Console

Save 80% of maintenance cost caused by cable

(Wireless connected to driver console)
Automatic Error Console
Data loss control

Stand Alone mode available

(Operate without Driver console)
Easy maintenance by remotely control(On/Off)
ITEM, Description Bus Validator table

ITEM

Description

System

Linux OS
ARM9 32bit S3C2440 400MHz
SDRAM 128MB
NOR 8MB
NAND 1GB

4.3"WQVGA TFT LCD 480 X272
Touch screen(option)
Indicated LED (RED,GREEN)
Speaker (1W X 2ea)
Buzzer

1 RS-232C Ports
1 USB HOST 1.1 Port
1 Ethernet Port
(EXTERNAL : CIRCULAR TYPE)

RC531(Mifare,ISO 14443 type A/B )

User Interface

SIM Type 7 slots
Connectivity

(I/O)

-20℃~60℃

Dimension

232x140x140mm(mounted the cradle)

Power

12V 2A
On Board TVM (Ticket Vending Machine)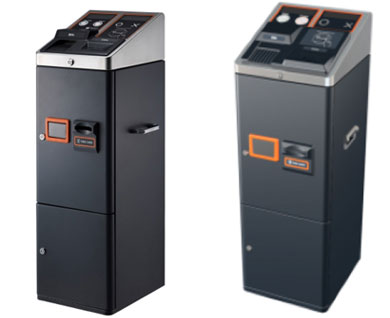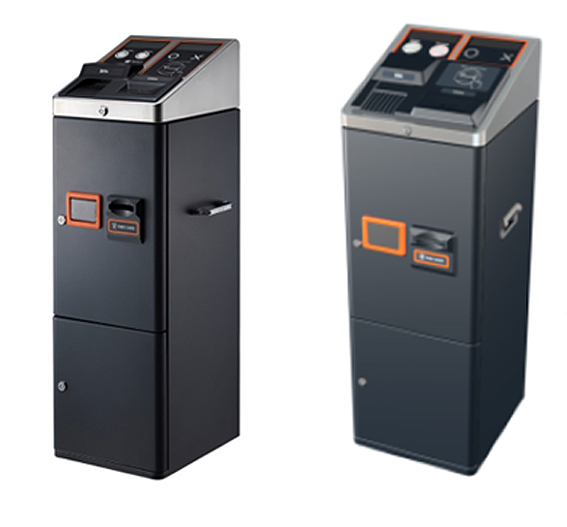 Key Features
Multi-function cash box which accepts bills, coins

(one by one) and RF card

STN(Super Twisted Nematic) LCD display is applied to support

multi languages

Heater built-in for climate adjustment (Optional)
Reference in Malaysia
ITEM, Description On Board TVM table

ITEM

Description

System

ARM9 32bit S3C2440 400MHz
SDRAM 128MB
NOR 8MB
NAND 512MB

User Interface

Dots STN LCD 128X64 2ea
2 Push Buttons(option)
LED "O(green)/X(red)"
Speaker (1W X 2ea)
Buzzer

Connectivity

(I/O)

2 RS-485 Ports
3 RS-232C Ports
1 ETM Power Port

RF Card Module

RC531(Mifare,ISO 14443 type A/B)

Card Dispenser

200pcs

Bill Module

3 bills/sec

Coin Module

10 coins/sec

SAM

SIM Type 6 slots

Dimension

280 x 320 x1000mm

Power

24V 3A
Top-up device (Manual type)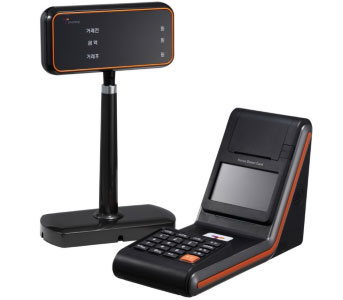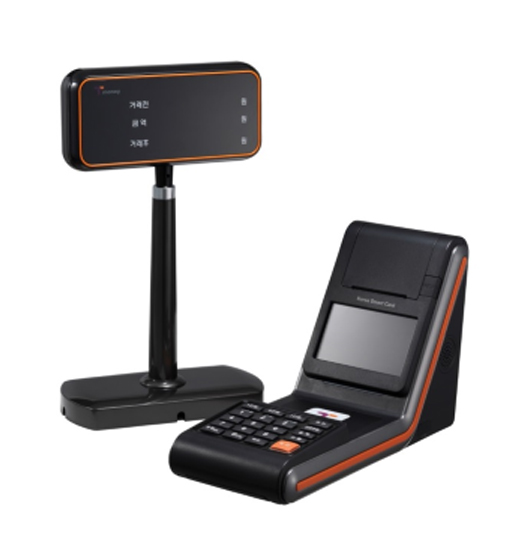 Key Features
Proven in Korea and Colombia by its number of 60,000 units
Easy to install
Various communication module available (3G/PSTN)
Exclusive display for client
ITEM, Description Top-up device table

ITEM

Description

System

ARM9 32bit S3C2440 400MHz
SDRAM 128MB
NOR 8MB
NAND 1GB

User Interface

4.3"WQVGA TFT LCD 480 X272
20 Push Buttons
Indicated LED (RED)
Speaker (1W X 2ea)
Buzzer
PRINT(2"Thermal)

Connectivity

(I/O)

1 RS-485 Ports(Option)
2 RS-232C Ports
USB HOST 1.1 1 Port & 2.0(Option)
1 Ethernet RJ-45 Port(TCP/IP)
PSTN
CDMA/GSM module (option)

RF Card Module

RC531(Mifare,ISO 14443 type A/B)

SAM

SIM Type 8 slots

Dimension

130*180*350mm(Main Device)

110*350*200mm(User Display)

Power

24V 5A

SAM

SIM Type 6 slots

Dimension

280 x 320 x1000mm

Power

24V 3A
Taxi Validator (Manual type)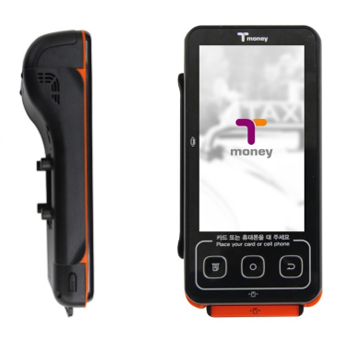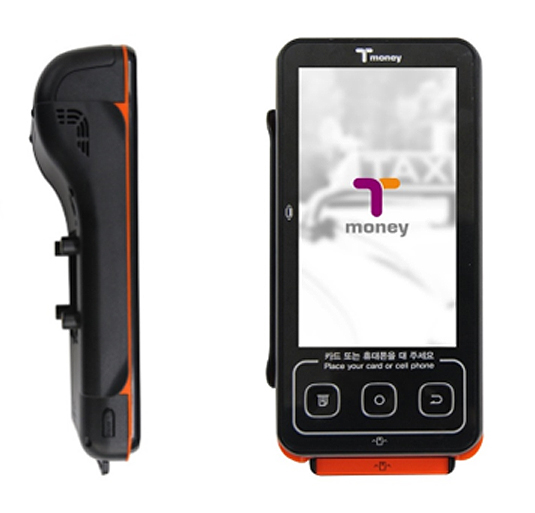 Key Features
IC card / Magnetic card / RF card all acceptable
Android
Easy to install
Touch Screen
ITEM, Description Top-up device table

ITEM

Description

System

S5PV210 (Cortex A8, MAX 1Ghz)
SDRAM : DDR2 1Gbyte
eMMC : 4Mbyte
External : Micro SD

OS

Android 2.3.3 Ginger Bread

User Interface

Connectivity

(I/O)

Meter : RS-232C
LTE : RS-232C
GPS : UART (Internal – Chip Option)
External PAD : RS-232C
BEACON : UART
UTIS (Option)

MODEM

3G Modem : RS-232C
LTE Modem : USB

RF Card Module

RC661(Mifare, ISO 14443 type A/B, ISO18092)
MAGNETIC

STRIPE

READER

ISO7810/ID-1
ISO7811-1/2/6

IC Card

Reader

ISO7816 figure2, T=0, T=1 Support
EMV Level1, Level2

SAM

SIM Type 4 slots

Dimension

166mm(W) X 76mm(L) X 35mm(H)

Power

12V (9V ~ 16V)
Express Bus On Board Device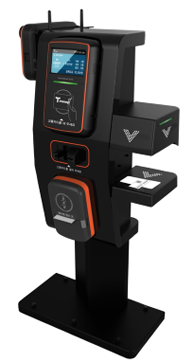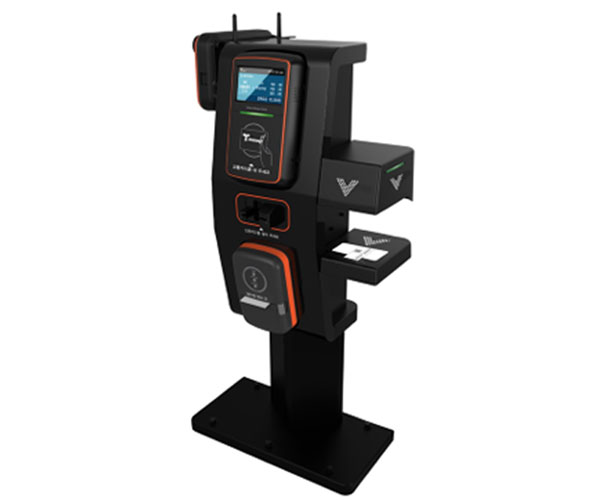 Key Features
Multi-payment method available such as RF type card, Mobile RF chip, Magnetic type card
Ticket check through Barcode reader
Bus Validator
ITEM, Description Express Bus On Board Device Bus Validator table

ITEM

Description

System

Linux OS
ARM9 32bit S3C2440 400MHz
SDRAM 128MB
NOR 8MB
NAND 512MB

User Interface

4.3"WQVGA TFT LCD 480 X272
Touch screen(option)
Indicated LED (RED,GREEN)
Speaker (1W X 2ea)
Buzzer

Connectivity

(I/O)

1 RS-232C Ports
1 USB HOST 1.1 Port
1 Ethernet Port
(EXTERNAL CIRCULAR TYPE)

RF Card Module

RC531(Mifare,ISO 14443 type A/B)

SAM

SIM Type 7 slots

Operation Temp

-20℃~60℃

Dimension

232x140x140mm(mounted the cradle)

Power

12V 2A
Bus Driver Console
ITEM, Description Express Bus On Board Device Bus Driver Console table

ITEM

Description

System

AFC Part
BMS Part

Linux OS
Coretex-A8 S5PV210 1GHz
SDRAM 512MB
NAND 1GB

Linux OS
Coretex-A8 S5PV210 1GHz
SDRAM 512MB
NAND 1GB
Micro SD 4GB

User Interface

7.0"WVGA TFT LCD 800 X 480
Touch screen
12 Push Buttons
Indicated LED (RED)
Speaker (1W X 2ea)

Connectivity

(I/O)

8 RS-232C Ports
1 USB HOST 2.0 Port
1 Ethernet RJ-45 Port
2 Ethernet Circular Ports
7 GPIO Ports
GPS- Ublox6
WLAN Dual Band

- 802.11a/b/g/n

7 RS-232C Ports
1 USB HOST 2.0 Port
1 Ethernet RJ-45 Port
7 GPIO Ports
1 Communication Modem I/O GSM / WCDMA / GPRS
A/V IN/OUT Port
(RCA Jack Type)
Audio Stereo
Video Composite

Dimension

226x148.5x52.8mm

Power

24V, 2A
Printer
ITEM, Description Express Bus On Board Device Printer table

ITEM

Description

Print Method

Thermal Printing

Print Resolution

384(dot/line)

Print Section

48mm

Paper Size

57mm

Paper TYPE

Thermal Paper

Characters per Line

42(10*24type)

Print Speed

150mm/sec, max

Receive Buffer Size

64KB

Communication Type

RS232 & USB (38400bps)

Power Input

22V~36V / 3A

Power Consumption

In case of output, 100W, max (In case of 20V, 5A)

Lifespan

Mechanism
100Km
Auto cutter
1,000,000 CUT

Externals Size

109*180*70mm