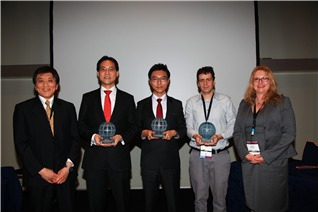 SEOUL, March 18 (Xinhuanet) - Mobile CMB service was awarded in the NFC Global Competition 2012 in Monaco for the best customer convenience and two business categories.
'NFC Global Competition' is a competition where experts will select and award excellent services in the field of NFC [Near Field Communication]. The NFC Forum is held annually by the global organization.
Korea Mobile Smart Card made by Smart Card Co., Ltd. [Traffic card embedded in mobile phone] has won 2 of 3 categories, competing with 67 services in 22 countries.
Mobile Tnet service is currently provided by all mobile operators in Korea. Not only public transportation, but also convenience stores and amusement parks can be used at 70,000 merchants nationwide.
An official at the Seoul Metropolitan Transportation Authority said, "The mobile tcm, which has more than 2.30 million subscribers in Korea, has been recognized for its excellence internationally because of its breakthrough convenience." We will continue our service and quality innovation."
[2012.04.18]